On the northeast border of Texas and Oklahoma, you'll find a little park-filled city known as Wichita Falls. Full of leisure strolls, bicycle trails and nature centers, this small Texan city is a peaceful retreat. To explore more of the area or experience a road trip through the Lone Star State, hire a cheap rental car to take you where you want to go.
Keen to see more of the USA? Pick up and drop off your rental car just about anywhere in this adventure-filled country. Cruise two hours south to Dallas or continue on to visit the quirky city of Austin, famous for its nonstop live music and food truck mania. Head north to Oklahoma City or northwest to Denver to see the staggering Rocky Mountains. Want to experience a legendary North American spring break? Drive south to the Gulf of Mexico South Padre island.
Hiring a rental car at Wichita Falls Airport
At Airport Rentals, we help you find the ideal rental car for your Wichita Falls holiday. Search and compare top-rated rental car brands in seconds. Simply choose your preferred travel dates and click 'search' to view rental cars available at Wichita Falls Airport. Narrow your search with our handy filters and favour top brands such as Avis, Budget and Hertz.
Once you've found the ideal vehicle, complete your booking quickly and securely without the hassle of booking fees. If you have any questions throughout the process, our customer service team is available 24 hours a day, 7 days a week.
Wichita Falls Airport (SPS)
The Wichita Falls Regional Airport, situated 10 kilometres north of the town centre, is used for both public and military use. American Eagle is the only airline with regular service and connects to the rest of the country via Dallas/Ft Worth International Airport.
While there is no cafe or restaurant, vending machines are available in the small terminal. Access free WiFi, but don't count on a strong connection.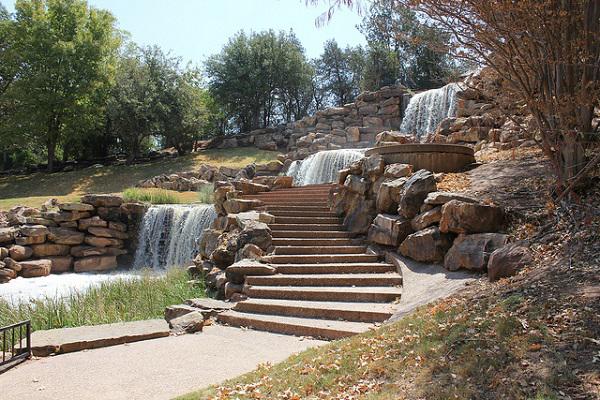 Image: Nicolas Henderson
Driving from SPS airport to the central business district
Wichita Falls Regional Airport is a 10-minute drive from the CBD. For the quickest route, exit the airport by taking a left onto Burkburnett Rd which turns into N Martin Luther King Jr Blvd. Turn right onto Lincoln St and left on Scott Ave to arrive in the city centre.
If you're heading to Midwestern State University, hop on I-44 from Armstrong Dr and follow signs for US-277 S/US-82 W and exit on Taft Blvd to reach the campus.
Driving your rental car in Texas
In Texas everything is bigger, including the cars. Pick-up trucks and oversized SUVs rule the multi-lane highways. Here are a few more driving tips worth noting:
● Always buckle up.
● Although Texas law doesn't prohibit the use of mobile phones, it's best to stick to hands-free devices.
● Right turns on red lights are allowed unless stated otherwise, treat it as a stop sign and only turn if there is no oncoming traffic.
● The speed limit is up to 70 mph on the highways and 30 mph in urban areas.
● New to the USA? Read our USA driving guide.
Parking at the airport and in the city
Parking is easy at Wichita Falls Airport. For a spot close to the terminal, park in the short-term lot. The other option is a long-term lot if you need to leave your rental car for multiple days.The charge is $5/per day to be paid by credit card upon exiting. Pay by cash inside the terminal at the pay station near the baggage claim.
Around Wichita Falls, most parking is free. Shops and restaurants have their own lots as well as nature parks and hotels. If you're in town, it is easy to find on-street parking, but near the university spaces are limited. Make sure to adhere to signs to avoid fines in both areas.